Private houses in Arkhangelskoe near Moscow
Architects: Alexei Kozyr, Ilya Babak
View of the objects from the south. Neoclassical house by Maxim Atayants is at the left, dark chocolate 'bunkers' by Alexei Kozyr are at the right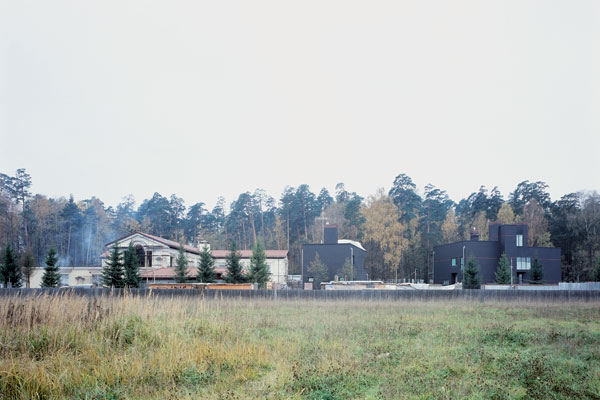 On the edge of a forest belonging to a Ministry of Defence sanatorium near Moscow two mansions stand opposite each another. The architect of one of them is Maxim Atayants, of the other Aleksei Kozyr. Atayants works exclusively in the Classical style, Kozyr in profoundly modern forms.
View of the buildings from the south-east: the neoclassical palatial house by Maxim Atayants can be glimpsed in the opening between the dark chokolate blocks by Alexei Kozyr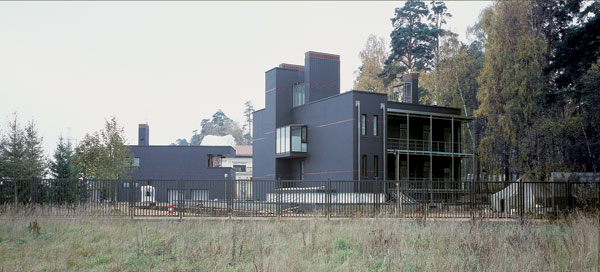 The two mansions in Arkhangelskoe are so unlike one another that the contrast between them becomes a matter of mutual complementation. The light ochre walls of the Neoclassical house serve as an ideal background for the dark-chocolate monolithic forms of Kozyr's house and garage – which in turn set off the finely drawn, graphic, and accordingly rather dry facades of Atayants' villa.
View of the house from the forest side. All living spaces have terraces or balkonies enabling access to nature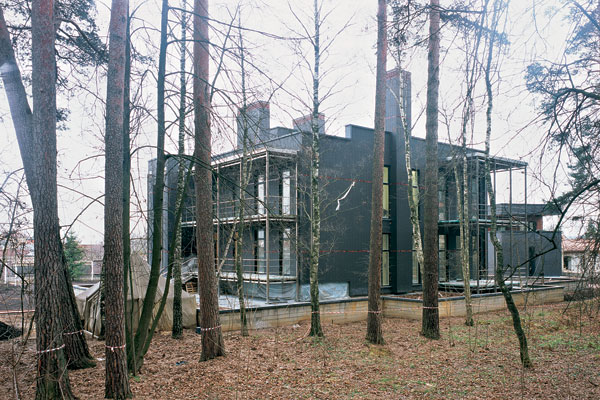 It might seem that what we have here is the most radical illustration of notions of 'old' and 'new' luxury in architecture (see p. 66), notions that are all the more exaggerated since they here meet 'face to face' in the form of realized projects – a house-palace exploiting centuries-old ideas for the architecture of wealthy residences and a house-bunker whose uncompromising aesthetics are a sign of the owner's eccentric worldview.
В сторону леса дом сориентирован фасадом, главной вертикальной доминантой которого является высокая труба, – на эксплуатируемой кровле, также как и в гостиной, предусмотрен камин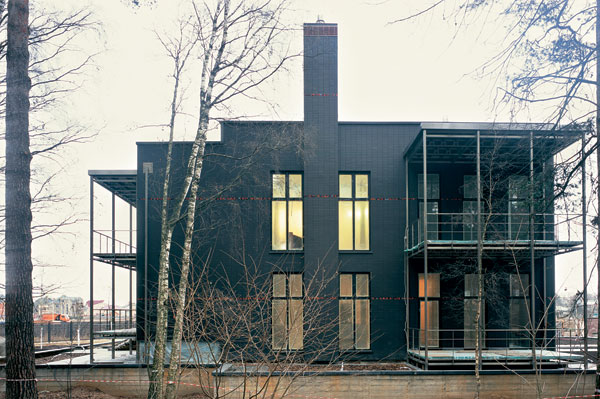 However, when looked at more closely, everything turns out to be a little more complicated. Although Atayants uses the Classical architectural language, it is its marginal 'dialect' that he prefers. His style derives not from the acknowledged 'highway' of this style, but from various late-Roman and mannerist side-roads. In spite of the first impression it makes, his palace evinces a compulsive attraction to originality, not universality. This attraction is visible everywhere – from the cruciform layout and complex way in which the interior spaces are organized to the whimsical ornamentation and twisted cannelures of the loggia of the central risalit. Utterly different architecture has in these two buildings arisen from the use of the same prosaic construction techniques. Both structures are brick boxes onto which the décor has been fastened directly.
Project Russia №42
The house faces the road with its 'blind' elevation. The background of solid wall plays up thin strips of mosaic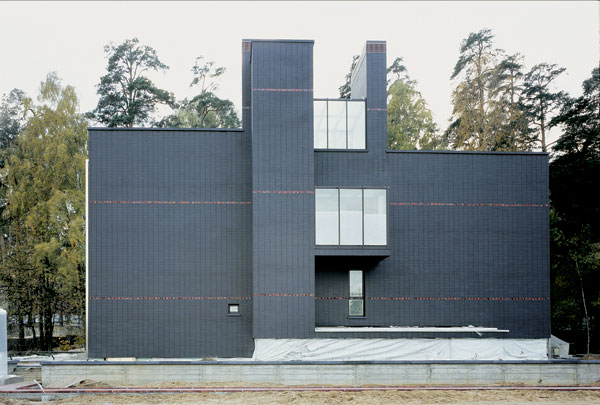 Garage outbuilding. View from north-west side